Latest Cloud Computing Stocks for 2022
Why invest in cloud computing stocks? Cloud computing has experienced rapid growth in the last decade as companies worldwide have moved a lot of their data and services to remote data centers accessible from anywhere over the internet—the cloud. The trend of working remotely, the rise of 5G networks and AI, and the Internet of Things have further increased cloud adoption.
But just how big has cloud computing become? Research company Gartner predicts that annual global cloud computing spending will jump from $250 billion in 2020 to over $360 billion in 2022. By 2030, this figure may surpass $1 trillion.
With all these figures in mind, it's easy to see why investing in cloud computing may pay off this year and in the years to come. So, what are some of the most attractive cloud computing stocks out there?
Amazon (NASDAQ:AMZN)
Amazon is currently the world's biggest cloud services provider. Amazon Web Services (AWS) is one of the best examples of the digital transformation that the cloud can provide businesses that embrace it. AWS caters to businesses across industries. Among its customers are some of the world's largest enterprises.
Microsoft (NASDAQ:MSFT)
Microsoft Azure is the next big player in the world of cloud computing. With its vast infrastructure and software ecosystem, it offers some of the most powerful cloud solutions currently available. Like Amazon, Microsoft Azure will likely hold on to its place at the top of the cloud computing world in the years to come.
Alphabet (NASDAQ:GOOGL)
Google Cloud Platform is the third giant in the cloud computing world, offering data management, multi-cloud and hybrid cloud, machine learning, artificial intelligence, and more. It was launched in 2008 and has since become one of the largest and most popular cloud solutions for businesses of all sizes. Google Inc became Alphabet Inc in 2015 as part of a rebranding and restructuring process.
Adobe (NASDAQ:ADBE)
Adobe is best known for its document editing and creativity software like Photoshop. However, over the last few years, Adobe has managed to transform itself into a leader of cloud services. It has been steadily acquiring new firms to expand its offerings, including e-commerce platforms and project management solutions. Today, it's hard to talk about cloud services without mentioning it. It's one of the companies you want to add to your investment portfolio.
Salesforce (NYSE:CRM)
Salesforce grew out of a customer relationship management software to become a major tech platform for businesses. The company has been using cloud technology before it became mainstream. In recent years, it has acquired several promising cloud computing providers. Most of the solutions Salesforce offers use the capabilities of the cloud. Very profitable and still growing, Salesforce looks like it might become one of the biggest tech companies in the world.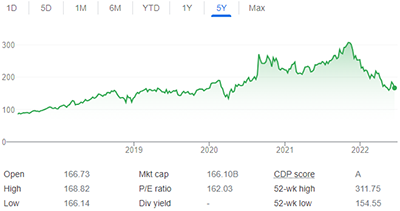 Zoom Video (NASDAQ:ZM)
Videoconferencing platform Zoom has become a leader in cloud-based video communication for both businesses and personal users during the COVID-19 pandemic. Social distancing restrictions may have eased around the world, but businesses and people continue to embrace Zoom as a simple and convenient way to communicate online. Cloud-based video calling has the potential to disrupt traditional telecommunications in the years to come. Which is why Zoom is on our list of the best cloud computing stocks to invest in this year.
Veeva Systems (NASDAQ:VEEV)
Veeva Systems provides data management, customer relationship management, and other cloud-based services to life science organizations and companies. Catering to demanding industries that require advanced solutions, Veeva has built a strong reputation. It's set to expand its services to consumer goods and other industries. Efficient and profitable, Veeva is another notable company worth your attention in 2022.
Cloud Computing Stocks 2022
And with that our list comes to an end. The companies we highlighted offer some of the best cloud computing stocks at this point in time. But you want to keep an eye on other cloud computing companies as well. It's a fast-growing industry with tremendous potential for investors.
Cloud Computing Stocks – Market Resources
**Disclaimer – All data and information is provided "as is" for informational purposes only, and is not intended for trading purposes or financial, investment, tax, legal, accounting or other advice. Please consult your broker or financial representative to verify pricing before executing any trade.